Brian Cowan, M.S., P.G.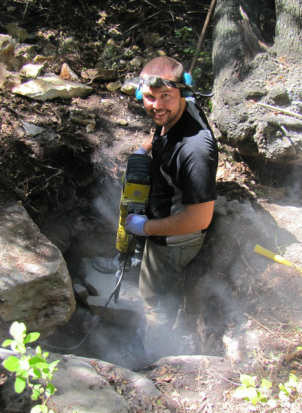 Brian received a Bachelor of Science in Geology from the University of West Georgia and a Master of Science in Geology from the University of Texas at Austin. His thesis work focused on the temporal and spatial variability of cave-air CO2 in central Texas and he also conducted extensive research on natural tracers of groundwater flow in karst settings and the preservation of paleoenvironmental signals in speleothems.

He holds Texas Professional Geoscientist license 11180. He also holds a USFWS Permit (TE85077A-1) to collect and study federally listed endangered karst invertebrate and aquatic species in central Texas. He has a range of experience conducting hydrogeologic karst investigations, particularly in the application of technology to collect environmental data. He has conducted karst feature surveys on over 2,000 acres in central Texas since 2007. He has extensive experience conducting and overseeing freshwater mussel presence/absence surveys and relocation efforts. He is a certified Divemaster by the Professional Association of Diving Instructors. Brian's project experience includes dye tracing, cave drip source delineation, groundwater technical evaluation for NEPA and USFWS processes, coordination with USFWS and USACE on WOTUS related issues, Geological Assessments, presence/absence determination and relocation/monitoring of state-listed freshwater mussel species, karst invertebrate habitat assessment and surface water quality. He is also familiar with issues in cave microclimates, groundwater geochemistry, and contaminant transport.

Before moving to Texas, Brian worked for the West Georgia Center for Water Resources where he assisted with nearly all aspects of a multi-year watershed assessment. He is a regular volunteer diver at Aquarena Springs, where he helps maintain underwater archeological sites and improve spring habitat for federally endangered species.

---