Our Mission...
Zara Environmental LLC is an environmental consulting firm known for our scientific integrity, diligence, and expertise. We have a history of providing superior products that consistently exceed expectations because we support a collaborative environment for our team members to work through the dynamic challenges of our clients' needs. Our unparalleled relationship with regulators facilitates an effective path through the environmental regulatory process, made more efficient by our responsiveness and technical expertise, which we hone by remaining involved in innovative scientific research on unique issues in the natural world.


---
Contact Us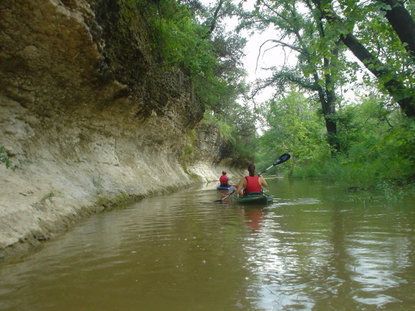 The Zara Environmental office is located on the west side of Manchaca, Texas. Our building is perched on the edge of Bear Creek, just downstream of the Edwards Aquifer recharge zone. A fault juxtaposing the Austin Chalk against the Buda Limestone Formations causes a waterfall that drops into a large plunge pool. When sufficient flow makes it across the recharge zone this stretch makes for a fun paddling trip.

The City of Austin has chosen Zara Environmental to host a stream gauge measuring the discharge of Bear Creek at our office. The Bear Creek watershed upstream of Zara has a Catchment of over 16,000 acres, with an over 9 kilometer stream segment passing through the Edwards Aquifer Recharge Zone. It is the City's goal to quantify the amount of recharge along this stretch of Bear Creek by comparing the flows at upstream gauges along Bear Creek to the gauge at Zara.
---
---