Zara Performs Fungal Analysis and Investigation for White-Nose Syndrome Fungus at Fort Hood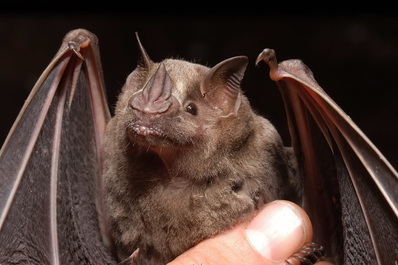 Zara recently received a Department of Defense Legacy Grant to help develop early detection protocols for white-nose syndrome (WNS) by sampling for Pseudogymnoascus (=Geomyces) destructans (Pd), the pathogenic fungus that causes the development of WNS in hibernating bat species. The study was featured in the Spring 2016 issue of the DoD's
Natural Selection periodical
; the
technical report
and
fact sheet
are also available for download.
WNS has caused the deaths of millions of bats in the US since its discovery in 2006. In 2015, the Arkansas Game and Fish Commission confirmed WNS-infected bats in several caves in the Ozark Mountains of northern Arkansas, as well as Pd in mines of the Ouachita Mountains in the west-central part of the state. This is of great concern to Texas natural resource managers because of migratory connections to bat populations in Arkansas and Oklahoma. Fort Hood is home to multiple caves that serve as hibernacula and maternity colonies for the tri-colored bat (Perimyotis subflavus) and cave myotis (Myotis velifer), which are migratory species that are at risk of infection and could function as vectors of Pd into Texas caves.
The primary objective of this study was to determine the status of Pd and other fungi within known hibernacula and maternity colonies in Fort Hood caves. Monitoring for changes in the fungal community composition may help detect early warning signs of Pd invasion. The study served multiple purposes including: 1) filling in regional information gaps regarding the presence of Pd and baseline characterization data on the fungal communities in bat-occupied caves; 2) developing a methodology for non-invasive detection of Pd; 3) testing the detection methodology by implementing substrate sampling at select Fort Hood caves; and 4) developing a baseline status report detailing the methodology and results of the assessment. Researchers sampled substrates and collected swabs of walls and ceilings in the study caves at Fort Hood in order to determine whether Pd was present using two recently developed polymerase chain reaction (PCR) methods. In addition, two methods were used to develop preliminary baseline fungal community information in the study caves using a culture-independent approach that incorporated PCR using internal transcribed spacer (ITS) primers (ITS4 and ITS5) and a culture-based approach using matrix-assisted laser desorption/ionization mass spectrometry or sequencing 18S rRNA amplicons produced using PCR for the identification of successfully cultured isolates. The fungal community analysis using both methods resulted in the identification of 24 taxa consisting of representatives of Ascomycota, Basidiomycota, and Zygomycota. While the Pd screening effort did not result in the detection of Pd in the study caves, the continued monitoring of the study caves will help to enhance the continued mission readiness of Fort Hood and other Department of Defense installations by enabling early detection of Pd and/or symptoms of WNS such that the base can effectively respond to the risk.
---
---