Zara Publishes Note on New Barton Springs Salamander Locality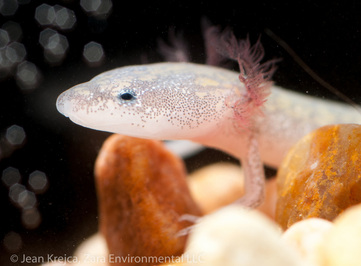 Zara scientists have published a paper on the historic collection of a Barton Springs salamander from a 200-foot deep well in southern Travis County. The well, which intersects the Edwards Aquifer, had been sampled more than 200 times since January 2010, but this was the first time that a salamander was encountered. The Barton Springs salamander,
Eurycea sosorum
, which was previously documented from only five other central Texas sites. The note (below) was published in the December issue of Herpetological Review. You can also view the full issue
here
.








EURYCEA SOSORUM (Barton Springs salamander). USA: TEXAS: TRAVIS CO.: Zara Monitoring Well (State
Well No. 58‐50‐705; 30.142235°N, ‐97.842087°W; WGS84). 30 July 2015. Collected by Peter Sprouse and
Barrett Clark. Verified by Andrew Gluesenkamp. Texas Natural History Collections (TNHC 96003 [Zara
8982; AGG 2172]). After checking a bottle trap 212 times between 2010 and 2015, a juvenile Eurycea
sosorum was collected in a from a 61‐m deep monitoring well intersecting the Edwards Aquifer. The
bottle trap was located approximately 58 m below the ground surface, at a water depth of 38 m. The
external morphology and coloring of this specimen appears very similar to topotypical Barton Springs
salamanders, including a "shovel‐nose," reduced eyes, and long, slender limbs. The specimen exhibited a
combination of pigment gaps and high iridophore concentration that is typical of specimens from the
type locality (Chippindale et al. 1993). This is the first time that E. sosorum has been collected from a
well, and the deepest water depth from which it has been documented. All other localities are springs,
except the Blowing Sink Cave site, which is a shallow (0.5 m deep) cave stream located in a passage
approximately 70 m below the surface. Chippindale (2014) suggests that three sites in Travis County
(Barton Springs, Cold Springs and Blowing Sink Cave) and two sites in Hays County (Spillar Ranch Springs
and Taylor Springs) represent the additional known localities of this species. (Chippindale, P.T., A.H.
Price and D.M. Hillis. 1993. A new species of perennibranchiate salamander (Eurycea: Plethodontidae)
from Austin, Texas. Herpetologica 49: 248‐259. Chippindale, P.T. 2014. Final Report: Status of newly
discovered cave and spring salamanders (Eurycea) in southern Travis and northern Hays Counties.
Report prepared for TPWD. 29 pp.). USFWS Recovery Permit: TE85077A‐1. Submitted by Krista
McDermid (krista@zaraenvironmental.com), Peter Sprouse (peter@zaraenvironmental.com), and Jean
Krejca, Zara Environmental LLC. 1707 West FM 1626, Manchaca, Texas 78652, USA
(jean@zaraenvironmental.com).
---
---